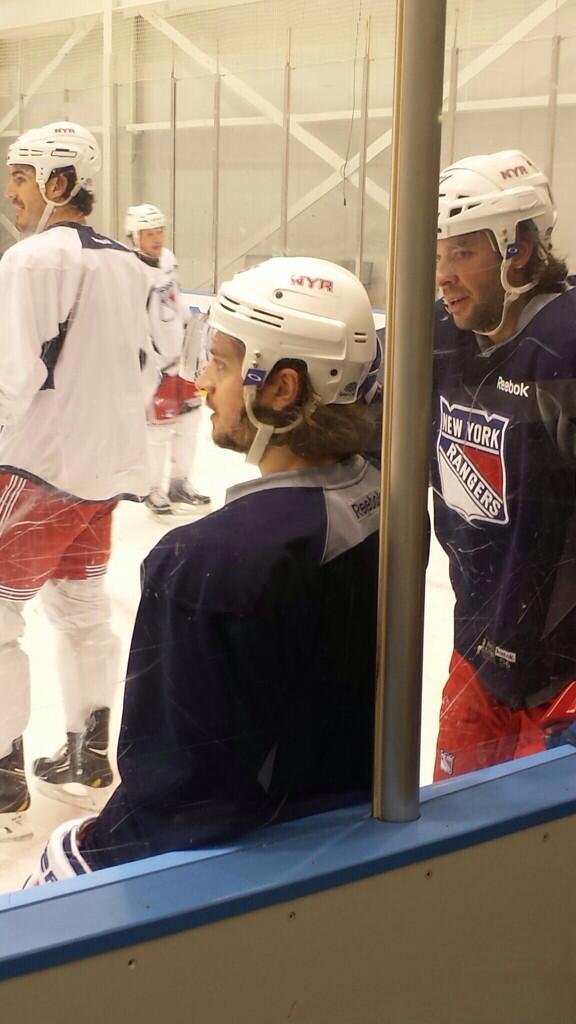 Big news at practice today as Mats Zuccarello skated with his teammates for the first time since fracturing his hand during the Olympics.
Zuccarello began the day flipping pucks on goal before practice but when the session began he started to take shots with more authority.
After practice Zuccarello said he felt a sting when he was shooting and his timetable remains the same, however, he added that it feels better than it did 3-4 days ago.
…even though the timetable remains the same it's very encouraging to see the progress Zuccarello's made in just a few days.
…and he better get back in the lineup soon because if Miller continues play the way he did last night there might not be room for Zuccarello in the lineup. Can you say Wally Pipp? I kid of course.
Speaking of not having a spot in the lineup, Alain Vigneault says he's still mulling whether or not to get Derek Dorsett in a game this weekend against the Flyers or Bruins as he's very happy with the play of Dan Carcillo and the rest of the fourth line.
…no way Carcillo comes out of the lineup tomorrow in Philadelphia after the impact he had the last time these two teams got together. #carcilloeffect
…one other option AV has is to insert Dorsett for Boyle who is expendable in games against tougher opponents such the two this weekend.
For those of you wondering about Ryan Callahan and Dan Girardi they were both on the ice for practice.
…looks like this might go down to the March 5th deadline. Purchase your alcohol and xanax accordingly.
Zuccarello pic courtesy of Rangers Twitter account.
Remember to follow me on Twitter & Facebook or e-mail me at nyrfan94@yahoo.com.