Update, 11:53 a.m.:
Renaud Lavoie reports that Zuccarello could be out three weeks.
…tough break (no pun intended) for the Rangers and Zuccarello. Assuming JT Miller, who has been playing very well in Hartford, is likely to be recalled to take Zuccarello's place.
…i'm still a fan of NHLers representing their country in the Olympics, but this injury is making it harder for me to argue that point with Rangers fans.
Update, 11:01 a.m.:
According to Andrew Gross at the Bergen Record, the Rangers said this morning that an MRI in Russia confirmed that Zuccarello has suffered a non-displaced fracture in his left hand.
Zuccarello is expected to return to New York tomorrow.
Update, 9:43 a.m.:
Katie Strang at ESPN.com reports that Zuccarello is returning to NY today for re-assessment.
…with the Rangers medical staff's record, I'm not sure if this is a good thing or a bad thing.
Original Post:
So much for Mats Zuccarello's left hand not being broken, as TV2 reports (H/T reader Eivind F.) that x-rays have revealed a small fracture…
"We took additional x-rays of his hand today, and they showed that Mats has a small fracture in the left hand," said Dr. Ole Fosse to TV 2.
Dr. Fosse says the break is not complicated and he should be ready to play once the Rangers season resumes on February 27th.
Carl Hagelin also gave an update on Zuccarello's status…
"We have talked down here, are we good friends in New York. He seems to be okay, so I hope he's ready, we're back to Rangers."
…good news, bad news here. Obviously, you never want to hear that a player fractured something, but from the doctor's report it's not a serious break. If he's able to return for the February 27th game…no harm, no foul.
…having said that, this is the same media outlet and doctor, who said it wasn't a fracture two days ago, so I guess we should take this report with a grain of salt.
In much better injury news, Carl Hagelin, who was forced to leave Sunday's game vs. Latvia with an undisclosed injury, scored to two goals to lead Team Sweden to a 5-0 victory over Slovenia. Sweden now advances to the semifinals.
Henrik Lundqvist had 19 saves for his second shutout of the Olympics.
For game highlights, click here.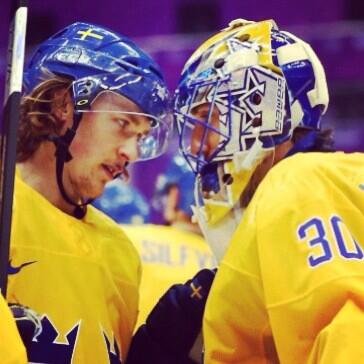 Remember to follow me on Twitter & Facebook or e-mail me at nyrfan94@yahoo.com.