The Stanley Cup Playoffs can do unbelievable things to players' reputations. The sample sizes are small and the stakes are as high as they'll ever get. Sprinkle in the fact that games, especially in the Conference Finals and Stanley Cup Final, are being watched by the entire hockey world and thus under the magnifying glass, and it's a recipe for defining moments and players themselves being defined by said moments. Think of Stephane Matteau and Darren McCarty – two solid but otherwise unspectacular grinders – becoming hockey legends with one defining moment. For Matteau it was the overtime winner against the Devils to send the Rangers to the Stanley Cup Final. For McCarty it was his goal against the Flyers to essentially clinch the Stanley Cup.
Of course, there's the other end of the spectrum. The Steve Smith own goal in 1986. Chris Phillips contributing a similar gaffe in 2007. And so on.
Dan Girardi perhaps isn't immortalizing himself for the wrong reasons like Smith or Phillips did, but the magnifying glass has certainly been unfavorable to him through four games against the Kings. In Game One it was the unforced turnover to set up Justin Williams for the overtime winner. There have been a number of glaring errors since. He's turned the puck over. He's been caught flatfooted. Just watch as Jeff Carter coasts past Girardi in Game Four; one of many times this has happened to Girardi this series. (h/t @myregularface)
Hank bailed him out last night, but in Game Three he wasn't so lucky. His botched shot blocking attempt deflected Carter's shot, which without the disruption would have likely been a routine save for Lundqvist, into the net as time expired. A terrible pinch sent Mike Richards on his way to make it 3-0 and put the game out to pasture.
The snowballing mistakes have quickly turned Girardi into a punching bag for fans and media. Girardi's recently signed six-year extension has become a focal point of criticism and "I told you so's." To a degree, it's understandable. As previously mentioned, this is the highest stage possible, and there's very little room for error. Girardi has supersaturated the place with errors, so the magnifying glass is burning him.
Still, it's a four-game sample size. If Girardi was having this poor stretch in the middle of February it would be seen as just that; a slump in the middle of February. And in six months nobody would even remember that it happened. Is Girardi worth the extension he was handed? That's a debate for another article. The point here is that the premise that Girardi is bad or overpaid or anything else based on these four games, just because they happen to be in the Stanley Cup Finals, is flawed logic. Fortunately (or, rather, unfortunately) we can go well beyond these four games to see that something screwy is going on. (h/t Travis Yost)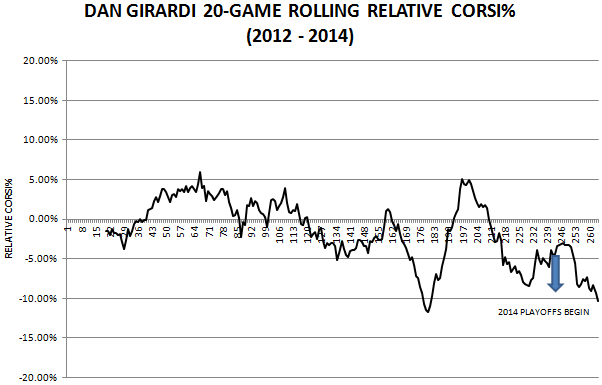 It's been downhill for Girardi for a while now, only it just now being recognized and harped on because of that metaphorical magnifying glass. It was really around the start of Spring that Girardi's play has dropped, and one has to wonder why. Girardi's never been a high-possession player; one of the main reasons why people might criticize his contract. Even so, his Corsi has plummeted quicker than Enron stock. The sharp decline indicates that something happened. So does the fact that he's putting up worse possession numbers now than he ever has in his career. Even under Tortorella – the team's peak of ignoring possession in favor of blocking shots – Girardi was hovering right around 50 percent at worst. This postseason he has a 43.6 Corsi percentage; by far his lowest number during any individual regular season or postseason since 2012. Can it be attributed in part to playing better players, inevitably, as one gets deeper into the playoffs? To some degree, probably.
Still, there's clearly more at play here. What is it? I have no idea. Maybe he's dealing with a personal problem that's affecting his performance. Maybe – and most likely – he and the team are hiding an injury. Or maybe it's just another case of what we've seen happen to others in the past, such as Gaborik in 2011, Richards last season, and Nash this time around, where the problems compound so quickly in the playoffs that it's hard to dig oneself out of it. It's a hell of a lot easier to hit the "reset button" in December than in June. In any case, two things are evident here. The first is that, regardless of your thoughts of Dan Girardi and his contract, he has NEVER been this bad. Never ever. Never. Unless someone cast a spell that caused him to age five years in the last six months, it's unlikely that we're witnessing his decline. More reasonably, he's going to bounce back to equilibrium at some point. If that equilibrium is as a pretty good but not great, overpaid defenseman who looks better than he is because of McDonagh then so be it; it's still a big leap from the mess we're witnessing right now.
But this leads to the more pressing issue for Alain Vigneault. Dan Girardi is going to return to normalcy at some point, but when is that point? The Rangers, and by proxy Alain Vigneault, do not have the time or margin for error to hold Girardi's hand as he deals with the situation. The next game they lose will be their last one, and Anton Stralman is playing some fantastic hockey right now. Breaking up the Staal-Stralman pairing to bump Stralman up to the first unit is an incredibly risky move that might do more harm than good. Or maybe not. At a minimum, though, Vigneault would be prudent to lessen his dependence on Girardi and give Stralman (and maybe even Kevin Klein) more responsibility. Extending this year's Stanley Cup run likely depends on it.
Follow Me On Twitter: @Herman_NYRBlog
Email Me: AdamNYRBlog@gmail.com