Despite the blog blowing up the last two trade deadline days, it is by far my favorite day of the year. And as has been the case since I started this blog back in 2007, I will be posting every trade and rumor out there as well as any Rangers news in this one post that will be updated throughout the day and into the evening. Today and July 1st are the only two days that I blog about teams other than the Rangers. It's just too fun a day to leave anything out. And of course if you guys see something I haven't posted, please leave it in the comments section or e-mail me at ( nyrfan94@yahoo.com). And here we go…
Refresh the page to see the most recent updates by clicking below button. The most recent update will be at the top of the post.
3:20 p.m. – Islanders trade Vanek to Montreal. (Sportsnet)
3:18 p.m. – Stastny will not be traded. (Dater)
3:16 p.m. – Legwand traded to Red Wings. (Sportsnet)
3:14 p.m. – The Flames have not traded Mike Cammalleri. (Spector)
3:12 p.m. – Matt Moulson traded to Wild. (Sportsnet)
3:10 p.m. – Ryan Kesler was not traded. (Friedman)
3:04 p.m. – Rangers get D Raphael Diaz from Vancouver for a 5th-round pick. (LeBrun)
…not confident in Faulk?
3:02 p.m. – May be one more deal in the works for Rangers. (Strang)
2:55 p.m. – JT Miller sent down to Hartford. (AHL Transactions)
2:54 p.m. – Flyers trade Andrej Meszaros to the Bruins. (Spector)
2:43 p.m. – Lots of interests for Columbus D Jack Johnson. (Renaud Lavoie)
2:39 p.m. – Red Wings are trying hard to acquire David Legwand. (TFP)
2:34 p.m. – Moulson talks for Sabres remain with Sharks, Ducks and Wild. (Kyproes)
2:32 p.m. – Penguins are waiting on Kesler but will go for Vanek if a deal with VAN can't be worked out. (Botta)
2:26 p.m. – Blue Jackets have traded a draft pick to Edmonton for D Nick Schultz. (Portzline)
2:23 p.m. – Tim Thomas headed to DAL. (McKenzie)
2:19 p.m. – Matt Moulson to MIN is a possibility. (McKenzie)
2:17 p.m. – Vanek deal might be finally nearing completion. Multiple teams have been in the hunt. (TFP)
1:56 p.m. – Doesn't look like Brodeur is being traded by the Devils. (Strang)
1:54 p.m. – Ruutu to the Devils. (Dreger)
1:44 p.m. – Marcel Goc from #Panthers to #Penguins I'm told. Picks in exchange for a 3rd and 5th pick. (Kyproes)
12:41 p.m. – Edmonton trades Hemsky to Ottawa for 3rd and 5th round picks. (McKenzie)
11:20 a.m. – Rangers trade Ryan Callahan to the Tampa Bay Lightning for Martin St. Louis. (TVA Sports)
11:15 a.m. – TSN crew on saying it would be Callahan as well as a 1st & 2nd round pick.
11:08 a.m. – Katie Strang at ESPN.com says Rangers/Callahn awfully close, yet still no deal. She's starting to feel headed in diff direction. Strang also getting sense that potential trade for Marty St. Louis is taking priority right now over getting extension done for Callahan.
11:06 a.m. – Bob McKenzie says Callahan and "significant draft picks" to TBL for St. Louis if it gets done. (Cordell)
11:00 a.m. – Marty St. Louis to the Rangers has really ramped up and may be much closer to reality. (McKenzie)
10:57 a.m. – Henrik Lundqvist will start against the Maple Leafs tonight.
10:55 a.m. – The Dallas Stars are reportedly listening to offers on Ray Whitney. (The Score)
10:52 a.m. – Columbus has traded Marian Gaborik to the LA Kings. (Russo)
10:40 a.m. – It's believed COL has made multi-year contract offer to Paul Stastny (McKenzie). However, Pierre LeBrun at ESPN says no extension is in sight and could be moved today.
10:27 a.m. – Callahan on the ice for morning skate. (Rangers Report)
10:19 a.m. – No interest from Kings in Vanek. More focused on Moulson or Gaborik or maybe Cammalleri. (ESPN)
10:07 a.m. – Steve Stamkos (broken leg) will return to action tomorrow. (Spector)
10:01 a.m. – Tampa asking for young guys with Callahan for Martin St. Louis. (Brooks)
9:40 a.m. – Canadiens shopping Lars Eller. (Kypreos)
9:35 a.m. – Teams starting calling Oilers brass on Sam Gagner again yesterday. (Dreger)
9:30 a.m. – Price tag for Martin St. Louis too high for the Rangers liking. Deal remains unlikely, unless price comes down. (Sportsnet)
…today is going to be nuts.
9:25 a.m. – Boston and Detroit the frontrunners for Buffalo's Ehrhoff. (Sportsnet)
9:20 a.m. – Penguins organization has doubts Kesler will be moved today. (Chris Johnson)
9:09 a.m. – Ducks defenseman Sami Vatanen (Chris Johnson)
9:05 a.m. – Sabres front office are not fully confident that Stewart, Halak and Moulson will move today as the asking prices are high. (Sportsnet)
9:01 a.m. – Flames have taken calls on Butler,Stempniak as well as Mike Cammalleri, but will only move for significant return. (Sportsnet)
8:58 a.m. – LA Kings could be a prime destination for Sabres winger Matt Moulson. Other Sabres in play include Jaroslav Halak, Chris Stewart, Tyler Myers, Christian Ehrhoff, Henrik Tallinder, Drew Stafford and Zenon Konopka. (Buffalo News)
8:55 a.m. – Columbus would like to move Gaborik today. (Columbus Dispatch)
8:53 a.m. – Sens highly unlikely to trade Michalek. (TFP)
8:22 a.m. – Rangers have put in offer for St. Louis. Ball in Yzerman's court. (Sportsnet)
8:20 a.m. – Still quiet on Callahan contract talks. (Sportsnet)
8:17 a.m. – Martin St. Louis is expected to encourage the trade to NYR today. May impact Yzerman's decision. (Dreger)
8:06 a.m. – Multiple draft picks included in Rangers bid for St Louis, including a 1st round pick. Blueshirts are getting creative in the quest. (Dreger)
8:04 a.m. – Dialogue between Rangers & Lightning on Marty St. Louis trade is continuing. No guarantee it gets done but still a possibility. (McKenzie)
8:02 a.m. – Broduer ok with whatever Lamoriello decides today. (ESPN)
7:42 a.m. – Hemsky, who the Rangers & others are said to be intersted in, scored two goals in Edmonton's victory last night. It was just his eighth & ninth goals of the season. (Edmonton Journal)
..not a bad time to have your best game of the season.
7:35 a.m. – The Islanders are mulling over multiple offers for Vanek. The Ducks & Bruins are said to be the most aggressive suitors. (TFP)
7:30 a.m. – After the disaster in Sochi, the Russian national team head coach Zinetula Bilyaletdinov has been fired. (USA Today)
…no shock here as it would have been a bigger news story if he WASN'T fired.
7:22 a.m. – The ice at MSG needs…ummmm….a little work before it's ready for tonight's game after a concert last night (TSN)…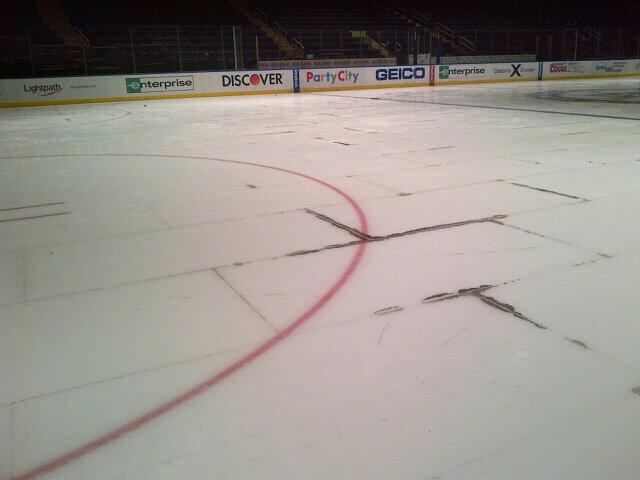 7:20 a.m. – Callahan's agent says the two sides continue to "plug away" at a new contract. (CBS NY)
…could this really be Callahan's last day as a Ranger? Just let that sink in.
6:09 a.m. – The Panthers will not be trading defenseman Dmitri Kulikov. (Dreger)
6:08 a.m. – With the Flyers acquiring McDonald yesterday, they could be interested in moving Meszaros and L. Schenn. (Sportsnet)
6:07 a.m. – The Kings are interested in Matt Moulson, Marian Gaborik and Thomas Vanek. (CBC Sports) The Penguins & Ducks could also be in the mix for Vanek. (Sportsnet)
6:06 a.m. – Martin Brodeur may have played his final game as a Devil last night. (ESPN New York)
…damn that's going to be odd seeing Brodeur in a different uniform. I hope it doesn't work out for him.
6:05 a.m. – Anaheim, Pittsburgh and Philadelphia are expected to pursue Kesler hard today. (ESPN.com & Philly.com)
6:04 a.m. – The Rangers have had conversations with the Oilers regarding Ales Hemsky, but are reluctant to yield the second-round draft pick sought by Edmonton. (New York Post) The Penguins are also said to be interested in Hemsky. (ESPN)
…if Hemsky, who is in the final year of his contract, truly is available and the Rangers can get him for just a third round pick, I think I might endorse that move.
6:03 a.m. – The Rangers have received several inquiries regarding Brian Boyle. (New York Post)
…if the Rangers do re-sign Callahan and also acquire another piece up front they're going to need to move someone and Boyle could definitely be in the running. Won't get more than a mid-round pick for him.
6:02 a.m. – If the Rangers get to a point today in which they feel signing Callahan won't happen, Sather is expected to reach out to the Lightning to re-visit the Martin St. Louis talks. (New York Post)
…not sure anyone in New York is rooting for Callahan/St. Louis trade more than Boomer Esiason.
6:01 a.m. – The Sharks, Stars and Canucks have been scouting the Rangers lately. (New York Post)
6:00 a.m. – In case you missed it, Ryan Kelser has made it known that he will not waive his NTC to play for the Rangers. (New York Post)
…God damn Vigneault!!!!!! And we thought last year's Rangers team had a problem with Torts. Yikes!
Trade deadline day started a little early this season as there were a number of eye popping deals yesterday. Here's the list:
Remember to follow me on Twitter & Facebook or e-mail me at nyrfan94@yahoo.com.