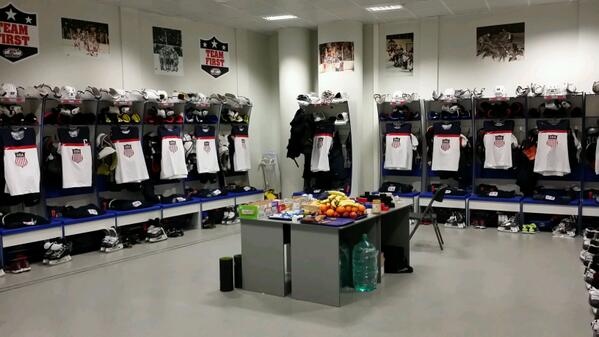 Sorry for the late post folks, as I'm recovering from a vasectomy (three kids are enough for me!).
In today's first semifinal, Sweden leads Finland 2-1 in the first period on goals from Loui Eriksson and Erik Karlsson. Finland's goal is from Olli Jokinen (Grrrr)
Some bad news for Team USA as Paul Martin is out of the second semifinal vs. Canada due to a hand injury. So, Justin Faulk will see his first action of the Olympics.
…was hoping maybe Byslma would go with just six defenseman and dress Stepan, but going with Faulk is the smart move.
With Faulk being thrust into the spot light, there will be more pressure on Ryan McDonagh, who Bylsma praised yesterday (via Sporting News)…
"Ryan McDonagh has played the off side in New York. He's played some off side there, he's killed penalties on the off side and that is something that we were looking on and possibly counting on coming into the tournament. We made that change in game two and I think he has grown even stronger and stronger with a couple of games under his belt. With the two shut down pairs of Suter and McDonagh, Orpik and Martin we have been able to get good matchups for our team.
One thing I didn't know as much of from Ryan McDonagh was how well he skated, we have seen that both offensively and defensively and that pair with the top four guys have been a good shutdown group for our team."
…McDonagh has literally made himself a household name during these Olympics. Two more wins and every fanbase in the NHL will be begging their team's management to find a way to aquire the Rangers stud defenseman. Talk about a steal of a contract Sather got him to sign this past offseason (six years, $28.2M or $4.7M per year)
…it's been a rough Olympics for injuries. So, I'm sure owners and fans are going to be even more reluctant to want their players to participate in the Winter Games four years from now. But injuries are part of the game. Who's to say if there weren't Olympics that Tavares, Zuccarello, Martin and others might not have gotten hurt during NHL games? All I know is the hockey has been spectacular. We're literally watching All Star teams play with passion. As a fan of the sport of hockey, how can you ask for anything more? And today's USA/Canada contest has the makings of being better than any regular season or playoff game we will watch for the remainder of the year. I don't understand why anyone would want to get rid of that.
Remember to follow me on Twitter & Facebook or e-mail me at nyrfan94@yahoo.com.