Sorry for the short hiatus. I'd give you reasons for it but nobody actually cares, so we'll just skip that. Instead, let's move on to the defensemen, now that we've covered all of the forwards up for new contracts. We'll start with by far the most pressing situation for the Rangers, and that's the status of Anton Stralman.
Vitals
Age: Turns 28 in August
Previous Contract: Two Years/$1.7M AAV
Contract Status: Unrestricted Free Agent
2013-2014 Basic Stats: 81 Games, One Goal, 12 Assists (25 Games, Five Assists in Playoffs)
Irrelevant Info Pierre McGuire Would Enjoy: The Rangers signed Stralman after the New Jersey Devils, who had him on a tryout in training camp, refused to offer him a contract.
Why You Keep Him
When McDonagh was generating moderate Norris Trophy buzz, Deadspin and Puck Daddy writer Ryan Lambert questioned how McDonagh could be in the discussion despite having a Corsi Rel (how high his Corsi is compared to the rest of his team) that wasn't even among the top-50 in the NHL. It was an astute observation from Lambert, but it fails account for a big reason why that was; the Rangers' second-pairing was damn good as well. Staal-Stralman was so good this season that, statistically speaking, it muddled down McDonagh's own possession stats. And we know how fantastic McDonagh is.
Sportsnet analyst and former Blue Jackets GM Ron MacLean claimed that Stralman "benefited from" being paired with Marc Staal. No doubt that having a terrific defenseman on his left side makes him better, as it would anyone. Still, it's incredibly misleading from MacLean. Here's a nifty chart from Travis Yost, who is a great follow if you enjoy stats.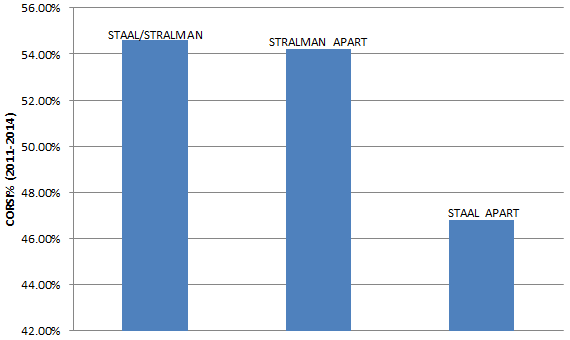 To put the chart into words; over the last three seasons, Stralman's effectiveness in possession was virtually unchanged whenever he was apart from Staal. On the other hand, Staal's numbers plummeted away from Stralman. There are a few problems with this chart in regards to Staal. The biggest one is that he spent so much time from 2011-2013 recovering from injury, so of course he was not going to play at his best. It took him a long time to get back to form, but this season we started to see him get back to his old self. The other problem is that, when Staal wasn't with Stralman, it meant he was with Del Zotto, Bickel, and Girardi. All guys who are terrible possession players. Stralman, meanwhile, was most often Ryan McDonagh.
But while that's an extremely important defense of Marc Staal's outlook, it's irrelevant to Stralman's. MacLean, as the chart shows, is wrong. Anton Stralman has been really good because Anton Stralman is a fantastic defenseman; not because Marc Staal has carried him. In fact, it's the other way around. The advanced stats community would say that Stralman has been "the driver" of the pairing. What this means is that, statistically speaking, Anton Stralman has been the Rangers' most important defenseman since the 11-12 season outside of Ryan McDonagh.
What really put Anton Stralman on the national radar, though, was his performance in the playoffs. While Dan Girardi was trying to remember how to play hockey, Stralman and Staal were posting the team's best possession numbers despite also playing harder competition than the Rangers' first pairing.
This isn't as diverse, let's say, of an argument for keeping Stralman as I have put up for keeping other players, but that's mostly because a wide array of different things should not be necessary here in mapping out Stralman's worth. Anton Stralman is arguably the most underrated defenseman in the NHL. The Rangers were significantly better at generating offensive chances while limiting opposition chances when Anton Stralman was on the ice. He just doesn't get the fanfare because he doesn't put up gaudy point totals, have a 100 MPH slapshot, or sprawl all over the place to block shots and break up plays. His brand of hockey is not going to stand out in short spans or on highlight reels, but who cares? If anything, with so many NHL teams still refusing to acknowledge or understand the premise of possession stats – but you know who does? The Blackhawks and Kings, whose recent success speaks for itself – Stralman might be one of the few free agents who could actually get undervalued.
Why You Lose Him
It all comes down to money. Anton Stralman said that he'd like to stay in New York but that "the only thing on (his) mind, really, is security for (him) and (his) family." It's vague in meaning, but the general message is this; I want a big raise for a lot of years. How much of a raise, though? And how long? The re-signing of Dan Girardi, for better or worse, puts the Rangers in a bit of a tough spot with Stralman. We've highlighted his value, but keeping him also means having three expensive right-handed defensemen (Girardi, Stralman, and Klein) for the next few seasons at minimum. That's a lot of money committed to one position. It also makes it virtually impossible for any of the team's young right-handed defensemen, including Dylan McIlrath, to make the team.
As I've said multiple times now, if this was 15 years ago then the Rangers just break the bank on Stralman, because Jim Dolan – for all of his faults – will spend whatever is necessary to make his teams competitive. But it's not up to Dolan. The salary cap is the big obstacle here, and Stralman might have just priced himself out of New York.
Keeping/Replacing Him
Kreider and Zuccarello are obviously important players, but both are restricted free agents and thus the Rangers can wait a while to deal with them. For now, Anton Stralman, who is a day away from being able to speak with other teams and a week away from being able to sign anywhere, is the highest priority. Whatever happens with him will dictate how all the other dominos fall.
The New York Post's Larry Brooks reported that the Rangers have allotted "approximately $4 million" annually for three or four years. That's certainly within the ballpark, but I also think Stralman would be very nice to settle for that. Stralman, on the market, could probably find two or three teams who would offer him five years and $5 million annually; that's being conservative. To keep him, the Rangers will likely have to do better. Assuming Stralman is willing to take somewhat of a hometown discount, we're still likely looking at a contract in the range of 4-5 years and $4.65-$4.85 million annually.
Again, for better or worse, Girardi's contract is still fresh and he has a full No-Movement Clause for the next three seasons. He's not going anywhere. Kevin Klein, however, could be a desirable commodity, and could be moved as a result of Stralman returning. Rather than paying Klein $2.9 million over the next four seasons as a third-pairing defenseman, plenty of teams would give up a solid prospect or draft pick for him. This would allow the Rangers to fit Stralman's contract more easily while also leaving room for a prospect or a cheaper alternative to Klein to earn that third-pairing spot.
If Stralman does move on, however, then the Rangers have a bit of an issue. The defense, which has been one of the things that has set them apart from most other teams in the NHL, takes a massive blow that I'm not sure the Rangers will be able to replace completely. Still, there are options to salvage it. Klein performed very astonishingly well during the playoffs and a Staal-Klein second pairing would still be better than what many teams have at their disposal.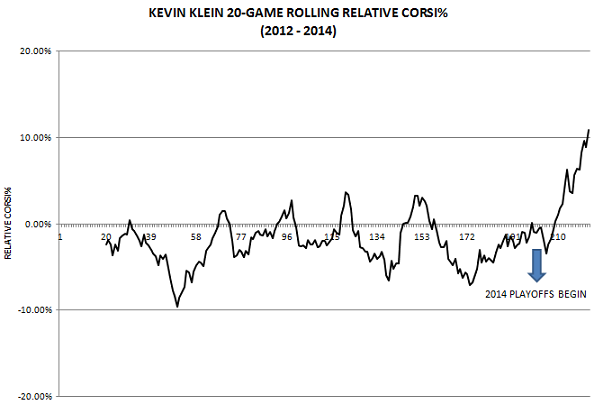 As for the third-pairing, Dylan McIlrath improved his game tremendously as the season progressed; the player you saw making his debut with the Rangers in December is not the player McIlrath has progressed to by now. Conor Allen, despite being a left-handed shot, played most of the season with Hartford on the right side. He also could win the job, therefore. Re-signing Raphael Diaz could be another option. Diaz is very similar to what Stralman was when he signed with the Rangers in 2011. His possession numbers have been very good and he's a good fit for Vigneault's puck-possession system.
On the free agent market, well, good luck. Stralman is probably the second-best defenseman available (Matt Niskanen being the first). You're not going to get much help financially, either. Dan Boyle is still good enough for second-pairing minutes and would be a good asset for the power play. Boyle will be 38 in July, though,  a one-year deal wouldn't be easy for the Rangers to hand out. If that's what he wants, of course.  Tom Gilbert was one of the few bright spots for the Panthers this season, put up some surprising possession numbers, and therefore could be a decent replacement for Stralman. Some other free agents with decent numbers are Nikita Nikitin, Mark Fayne, Ron Hainsey, and Kyle Quincey.
Finally, a radical move would be to open up cap space by trading Marc Staal. Staal's contract expires in 2015 and, while he seems eager to re-sign with the Rangers, there are no guarantees that he stays. Moving Staal would not only make room for Stralman's contract but would also replenish the system with sorely needed young talent. I don't think it's a move Sather should outright refuse to explore, but losing Staal to keep Stralman isn't much of a success. It would take a bountiful return from another team for the Rangers to really pull the trigger on it.
Previous "Retain or Release" Articles
Follow Me On Twitter: @Herman_NYRBlog
Email Me: AdamNYRBlog@gmail.com