The New York Rangers (29-23-3) host the New York Islanders (21-27-8) at Madison Square Garden starting at 7:00 p.m. For a preview, visit Yahoo! Sports.
TV: MSG Radio: ESPN Radio (98.7 FM)
Live Stream (Don't click on ads in stream, may download virus):
http://gofirstrow.eu/watch/236485/1/watch-new-york-rangers-vs-new-york-islanders.html
Probable Line-up:
Hagelin-Richards-Callahan
Kreider-Stepan-Nash
Pouliot-Brassard-Zuccarello
Boyle-Moore-Carcillo
McDonagh-Girardi
Staal-Stralman
Moore-Klein
Goaltenders:
Henrik Lundqvist – 19-18-3, 2.50 gaa, .915 sv%, 3 so
Evgeni Nabokov – 9-9-5, 2.82 gaa, .907 sv%, 1 so
Opponent Notes:
– The Islanders have won three straight at MSG.
– The Islanders are 0-3-1 in their last four.
– Rookie Brock Nelson has seven goals in his last 13 games.
– John Tavares is pointless in his last two games and goalless in his last five.
– Kyle Okposo has four goals in his last six games.
– Thomas Vanek has two goals and one assist in the last two games at MSG. Both goals were game winners.
– For those of you who will be in attendance tonight, let's hope you don't run into this…
The Rangers will be going with their Stadium Series jersey tonight (via Rangers Twitter)…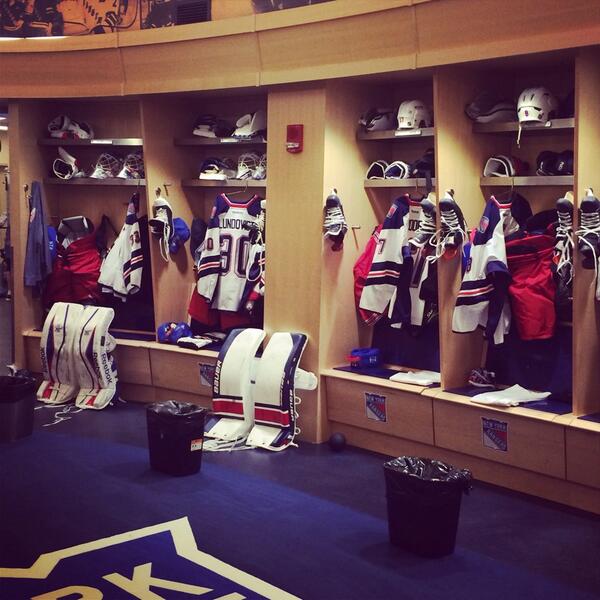 2013-14 Season Series:
Oct. 29 Rangers 3, Islanders 2 at Nassau Coliseum
Dec. 20 Rangers 3, Islanders 5 at MSG
Jan. 21 Rangers 3, Islanders 5 at MSG
Jan. 29 Rangers 2, Islanders 1 at Yankee Stadium
Jan. 31 Rangers vs. Islanders at MSG
Opponent Blog:
Lighthouse Hockey
Remember to follow me on Twitter & Facebook or e-mail me at nyrfan94@yahoo.com.