Update, 9:15 a.m.:
This morning, Callahan was skating on a line with Parise & Backes. Stepan was still an extra.
…wow, that's a huge step up from fourth line to playing with Parise.
Original Post:
Yesterday, practice for most Olympic men's ice hockey teams began, including for all seven Rangers players.
For Team USA, Ryan Callahan found himself on the fourth line with Max Pacioretty and Paul Stastny, while Derek Stepan was an extra skater with Blake Wheeler.
Ryan McDonagh was on the second defensive pair with John Carlson
Here's the full lines (via Pierre LeBrun)…
Brown-Kesler-Kane
Parise-Backes-Oshie
Kessel-Pavelski-van Riemsdyk
Pacioretty-Stastny-Callahan
Stepan/Wheeler extras
Suter-Fowler
McDonagh-Carlson
Shattenkirk-Martin
Orpik-Faulk
Here's a pic of Callahan at practice (via Rangers Twitter)…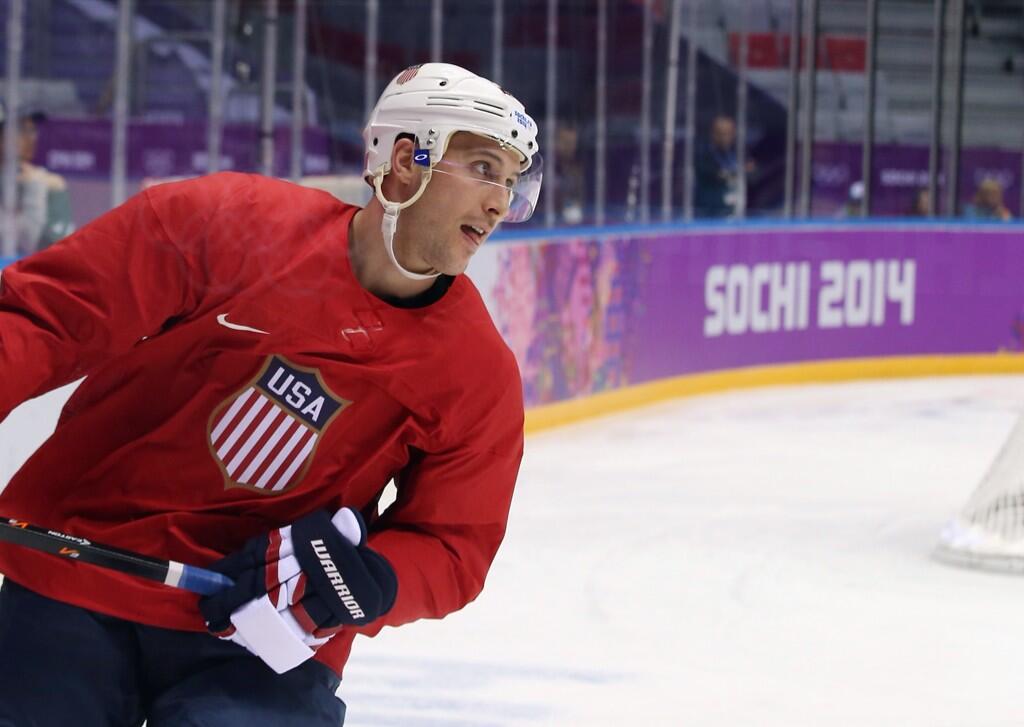 Team USA's first game is Thursday vs. Slovakia.
…while Stepan didn't play himself off the Team USA roster, it does look like he played himself out of the lineup. Not very surprising.
…seems like Callahan is going to have the same checking and penalty kill responsibility he had four years ago in Vancouver, which obviously suits him perfectly.
Over at Team Canada, Rick Nash was on the second line with Patrick Sharp and Jonathan Toews. However, Nash was not on one of the two power play units.
Here's Team Canada's full lineup…
Kunitz-Crosby-Carter
Sharp-Toews-Nash
Marleau-Getzlaf-Perry
Benn-Tavares-Bergeron
St. Louis/Duchene extras
Keith-Weber
Vlasic-Doughty
Bouwmeester-Pietrangelo
Subban, Hamhuis
Team Canada's first game is Thursday vs. Norway.
…that's an absolutely stacked Canadian team, so it shouldn't be too insulting for Nash not to be on the power play. Having said that, if Nash is having a normal Nash-like season, he's probably on one of those units.
Meanwhile, at Team Sweden practice Carl Hagelin ended up on the fourth line with Jimmie Ericsson (Skelleftea AIK) and Marcus Krueger (Blackhawks). Here's a pic of Hagelin at practice (via Carin Reuterberg)…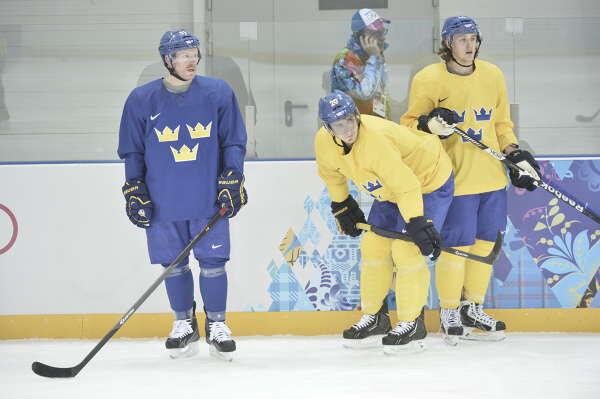 Here's full Swedish lineup (via Helene St. James)…
Landeskog-Zetterberg-Steen
Sedin-Backstrom-L.Eriksson
Nyquist-Berglund-Alfredsson
Hagelin-Kruger-J.Ericsson
…with that lineup, you had to figure it was going to be very difficult for Hagelin to crack the top nine. Just being on a team that talented is impressive enough. Looking forward to seeing Hagelin utilize his blazing speed on the bigger ice surface.
And what would a Team Sweden practice be without the King…
NHL.com ranked Lundqvist as the top goaltender at the Olympics.
Sweden's first game is Wednesday vs. the Czech Republic.
Finally, Mats Zuccarello and Team Norway began their Olympic journey (H/T Ole Aasheim)…
…Zuccarello has been one the the Rangers best players for the last two months, but if Norway has any chance of making it into the medal round, he's going to have to take his game to another level. And he needs to start right away, as Norway's first game is Thursday vs. Canada.
Remember to follow me on Twitter & Facebook or e-mail me at nyrfan94@yahoo.com.