It's officially time to get serious as the Olympic men's ice hockey quarterfinals get underway this morning at 3 a.m. with Sweden vs. Slovenia. Here's your bracket courtesy of the good folks at Fansided…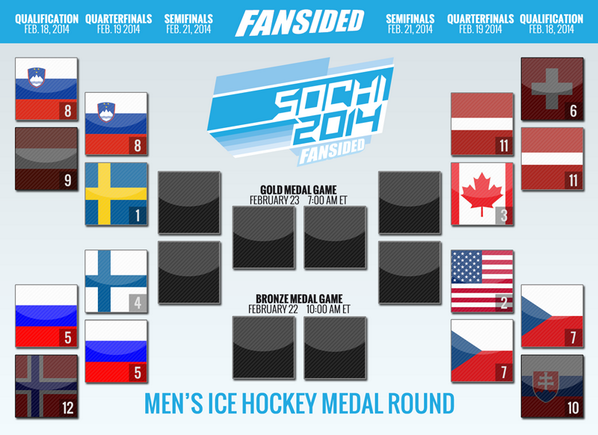 And here are your times and TV information…
Obviously, there's been a few Rangers banged up during these Olympics, including Henrik Lundqvist who finally spoke about being run over by teammate Eric Karlsson at practice on Monday (via Expressen)…
"It was an accident so it was not so much to say, luckily no one hurt more. It hurt did it, but it felt okay today so there was no danger. But it took a while and recover."
…doesn't sound like it's anything for Rangers fans to be concerned about, but I thought the same thing about Zuccarello before he was forced to miss yesterday's game because the pain and swelling in his injured hand did not recede.
…no word on Hagelin, who is dealing with his own undisclosed injury. I'm not sure if I'd be happier to see him playing knowing he's injured or sitting in the press box for precautionary reasons.
Meanwhile, there was also no update on the Rangers third and final injured player, Mats Zuccarello, whose Norway team was eliminated from the Olympics yesterday by the Russians. Andrew Gross at the Bergen Record said we should get further status when the Rangers resume practice Thursday.
…the Rangers first game after the Olympics isn't until the 27th, so if reports are correct that there's no fracture in the hand then there should be plenty of time for Zuccarello to heal. However, if there is a break, we're looking at a 4-6 week recovery time.
Finally, here are the lines from Team USA's practice yesterday as they prepared to take on Jaromir Jagr and the Czech Republic at noon…
Parise-Kesler-Kane
van Riemsdyk-Pavelski-Kessel
Brown-Backes-Callahan
Pacioretty-Stastny-Oshie
Extras: Stepan and Wheeler
Suter-McDonagh
Fowler-Shattenkirk
Orpik-Martin
Faulk-Carlson.
Jonathan Quick will be back in goal after sitting out Team USA's 5-1 win against Slovenia on Sunday.
…i'd be shocked if Stepan is back in the lineup as Bylsma is likely to go with the same crew that took down Team Russia on Saturday.
…big fan of Callahan's line. Lots of energy and physicality. A perfect fit for him.
Remember to follow me on Twitter & Facebook or e-mail me at nyrfan94@yahoo.com.