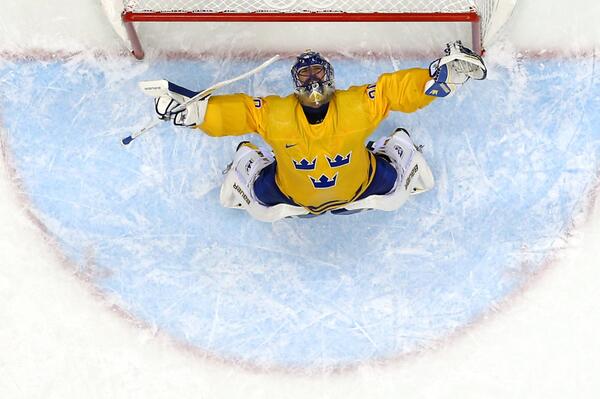 Henrik Lundqvist, Carl Hagelin and Team Sweden advanced to the gold medal game on Sunday with a thrilling 2-1 win over Finland this morning.
Lundqvist finished the game with 25 saves. Hagelin had two shots on goal in 10:25 of action.
For game highlights, click here.
…i'm sure Lundqvist wants back the only goal he gave up, but he has been brilliant throughout the Olympics. He's the reason Sweden should be favored against Canada in the gold medal game. I know who I'm rooting for.
…hate to praise a former Devil, but big time props to Oduya for pummeling the Finnish player who ran Lundqvist in the third period. Hope the Rangers defensemen watching the game took notice.
In the more agonizing game for us American Rangers fans, the United States men's team couldn't avenge the loss of their female counterparts and lost to Canada 1-0.
Ryan McDonagh was again a beast on defense, while Ryan Callahan played his usual hard-nosed game including two blocked shots on a pressure penalty kill in the third period.
The Americans will play Finland for the bronze medal tomorrow.
For game highlights, click here.
…whatever, who wants a gold medal anyway? Playing for the bronze is much more prestigious.
…not sure about you guys, but I got to assume if Stepan played today the Americans win the game running away.
…was very happy to see Callahan's stick break and not his leg during that penalty kill shot blocking sequence in the third period.
…a couple of Nash appearances, but for the most part…meh.
…i felt like I was viewing tape of the Rangers power play last season watching the Americans today.
…this will sound like sour grapes, but that had to be one of Price's easiest shutouts. Zero traffic in front and no second chances by Team USA. Everything was from the outside.
…Quick gives up a lot rebounds but the Canadians probably win that game by three or four goals without him.
…while Toews was held off the scoreboard, he may have been the MVP of that game for shutting down the Kessel line.
…the Rangers have a chance for six of their seven players who participated in the Olympics to come home with a medal. That would be very impressive.
…no time for the Americans to feel sorry for themselves because if they're not mentally ready for Finland tomorrow they'll be coming back from Sochi without a medal.
Remember to follow me on Twitter & Facebook or e-mail me at nyrfan94@yahoo.com.