Lost in all the Michael Zotto/Kevin Klein trade excitement yesterday was the return of Henrik Lundqvist to practice after missing Tuesday night's game against the Islanders due to a stomach flu.
And boy does this guy know how to make a return as he unveiled his new pinstriped pads which he could potentially wear during one the of the Stadium Series games at Yankee Stadium (via Rangers Instagram)…
Here's Lundqvist on the pinstriped pads which he's not 100% sure he'll be wearing (via MSG Network)…
Here's a couple of other options for Hank along with what looks like his Team Sweden Olympic pads (via Lundqvist Twitter)…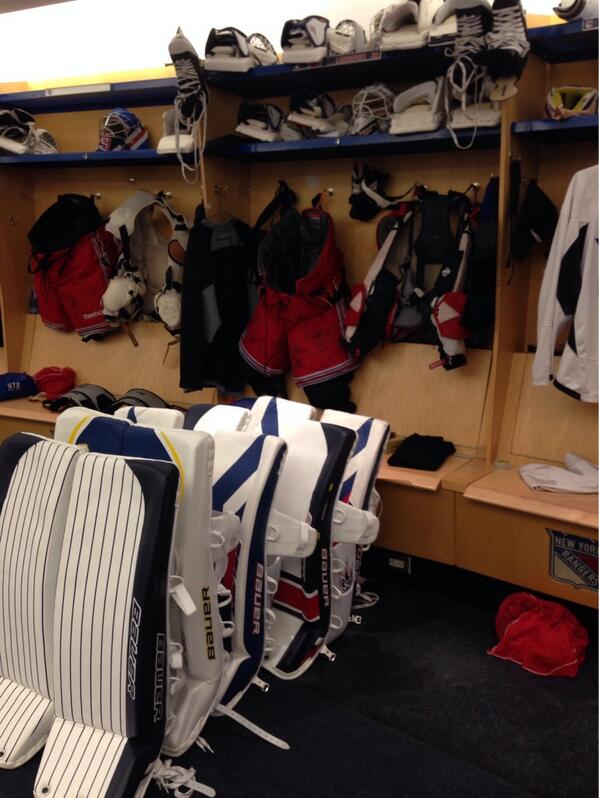 After practice Andrew Gross at the Bergen Record reported that Alain Vigneault announced that not only will Lundqvist start tonight against the Blues, but also both contests at Yankee Stadium.
Here's Lundqvist on his health…
"I feel a lot better today, hopefully by tomorrow I'll be back to normal. I didn't eat at all yesterday. I need to eat and drink today to get it back to feeling good. I think by tonight it'll be good and get a good night's sleep and be ready for tomorrow, that's my goal."
…so I guess "illness" wasn't the new word for pulled back muscle.
…assuming the only person upset by this news was LeNeveu, who was placed on waivers yesterday and is likely headed back to the Wolfpack.
…the Rangers are really going to need Lundqvist back at 100% tonight against a motivated Blues team looking to erase the memories of Tuesday night's 7-1 smackdown at the hands of the Devils.
Remember to follow me on Twitter & Facebook or e-mail me at nyrfan94@yahoo.com.