The Rangers organization has found itself in a difficult situation. On Saturday, Carl Hagelin was forced to leave Sweden's 5-3 win over Latvia with an undisclosed injury. After the game, it was reported that he was taken out for precautionary reasons and the injury, which was not disclosed, is not serious.
Now, Hagelin tells Swedish website Expressen (via Pro Hockey Talk) that despite being injured he will continue to play in the Olympics. After leaving Saturday's game, Hagelin was seen in the stands wearing street clothes and sporting a huge cut above his lip from a stick to the mouth he received Friday against Switzerland. Pic via Expressen…
Sweden has already lost Henrik Zetterberg (herniated disc) after one game and if Hagelin were to miss the remainder of the Olympics, the Swedes would find themselves severely shorthanded as Olympic rules state that they can't replace injured players.
…very tough spot for the Rangers. The last thing they need or want is one of their players fighting through an injury and possibly causing further damage, forcing them to miss significant time when the NHL season resumes.
…at the same time, I'm sure they don't want to pressure Hagelin into pulling himself from the lineup of a team with legit gold medal aspirations.
…it's hard to give an opinion on the situation without knowing what the injury is. If it's the stick to the mouth from two games ago that's still bothering Hagelin then I have no problem with him playing through it, but if it's something else like his surgically repaired shoulder, I think the Rangers have no choice but to step in.
The Rangers also received another injury scare today as Erik Karlsson ran into Henrik Lundqvist at practice. Afterward, Sweden coach Par Marts said Lundqvist is fine.
…someone wrap that guy in bubble wrap!!!
Meanwhile, in much better news, Ryan McDonagh (1g, 4 SOG, in 19:38), Ryan Callahan (1a, 1 SOG in 14:57) and Derek Stepan (won 3 of 5 faceoffs in 4:59) helped Team USA earn the 2nd seed and a bye into the quarterfinal round with a thumping of Slovenia 5-1. Here's two amazing pics of the McDonagh goal…
To watch full highlights of the game, click here.
Team USA will play the winner of the Czech Republic/Slovakia qualification round game on Wednesday.
…so amazing watching the rest of the country learn what Rangers fans already knew…McDonagh's good.
…Stepan didn't get much of a chance in this one, so his spot in the lineup is very much in doubt for Wednesday's game.
Team USA clinched the #2 seed when Rick Nash and Team Canada went to overtime against Finland, where they eventually won 2-1 and earned the #3 seed.
Nash was pointless while playing a team low 7:18. He had two shots on goal, a high stick penalty as well as a goal disallowed that probably should have counted.
…i haven't watched all of Team Canada's games, but Rangers fans who were looking for the Olympics to jump start Nash have been majorly disappointed. Still plenty of time for him to make an impact, but he's looking more like the floating, perimeter Rick Nash that Blueshirt fans have come to loath than the aggressive, net charging one seen so sparingly this season.
Another Ranger who has disappointed at the Olympics is Mats Zuccarello who is pointless and winless through three games.
…Zuccarello has played a ton for Norway and is easily the best player on the team, but the bottom line is he's not helping his team on the score sheet and at the end of the day that's all that really matters.
…hopefully, he's just saving all his goals for the Rangers stretch run.
Here's what the bracket looks like after the preliminary round…
And finally, while Lundqvist was "too cool" to ride a bike around Sochi, apparently he's fine with getting on the back of one ala Zuccarello…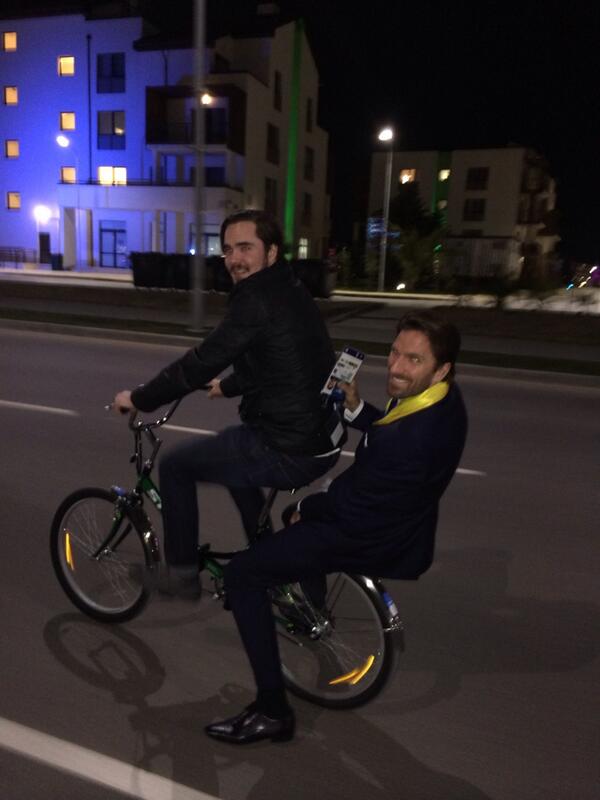 Remember to follow me on Twitter & Facebook or e-mail me at nyrfan94@yahoo.com.