Derek Stepan and Mats Zuccarello both missed practice this morning to recuperate from the flu which both played through last night.
…seems like Stepan has been playing with the flu all season. Meanwhile, you never would have known Zuccarello was under the weather last night as he was mixing it up with Capital players all night.
…can only hope this bout of the flu doesn't make its way through the entire team. Last thing the Rangers need is for an illness to devastate the team when they're finally starting to play well.
Speaking of players who look like they're playing with the flu, Rick Nash was taken aside by Alain Vigneault during practice for a little heart to heart (via Daily News)…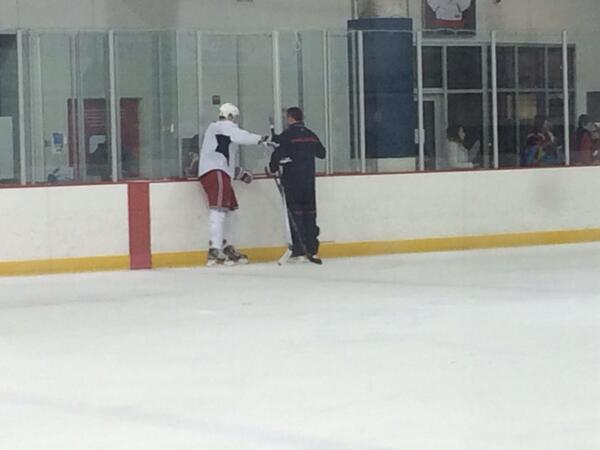 …as I mentioned last night, if Nash doesn't pick up his level of play soon a healthy scratch could be forthcoming, which I hope AV was warning him of.
One event that could facilitate a healthy scratch for Nash is the return of Ryan Callahan, who practiced in full equipment for the first time since suffering a knee injury on December 10th today.
Meanwhile, Marc Staal (concussion) practiced in full today, but has been ruled out of tomorrow's game in Tampa. His likely target date is next Friday in Pittsburgh. Anton Stralman has been listed as day-to-day with an undisclosed injury he suffered last night.
The recently recalled Conor Allen practiced with the team this morning and will likely be in the lineup tomorrow.
Here's AV on Allen (via Rangers Twitter)…
"We played him three games in preseason and liked what he brought in training camp. He has tremendous amount of upside."
…will be a bit of baptism by fire for Allen, who could find himself playing a ton of minutes if Del Zotto continues to be a turnover machine.
Finally, Vigneault announced that Henrik Lundqvist will start between the pipes in Tampa.
…with the injuries on defense and the Rangers top players still struggling, this would be the perfect time for Lundqvist to regain his Vezina winning form.
Remember to follow me on Twitter & Facebook or e-mail me at nyrfan94@yahoo.com.