Update, 1:45 p.m.:
A few additional items on Lundqvist. He has a full no movement clause in his contract.
…this is expected and really isn't a big deal. Until he's terrible in five years and I'm irate that the Rangers gave it to him.
He also showed up at practice with a new bucket today (via Rangers Twitter)…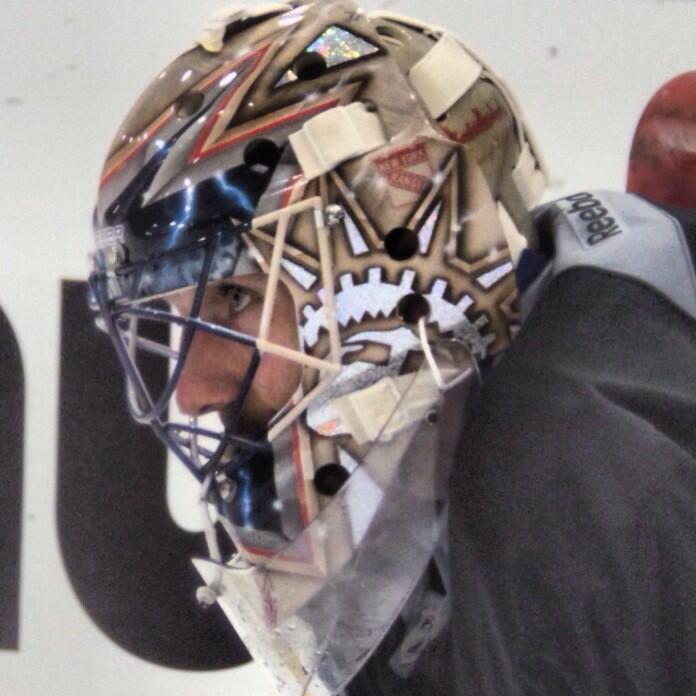 …in the past, Lundqvist's masks were bedazzled with sparkles. With the new deal, I hear this one is diamond incrusted.
"I really want to win the cup here in NY." – @HLundqvist30 #NYR #KingOfNY

— New York Rangers (@NYRangers) December 4, 2013
Lundqvist added that it was never an option for him to leave the club.
…i don't want anyone to misconstrue that my concerns about the length of the contract means I'm unhappy having The King back. Couldn't be further from the truth. But as I've mentioned the last couple of days, Hank is at the pinnacle of his career right now. So what does that mean? It's all downhill from here. Now I don't expect it to be a dramatic dropoff and he'll remain keeping this team competitive, but if you think he'll still be competing at his Vezina winning form of two years ago, you're only fooling yourself. His stats the last two years have already begun to sag, so where are they going to be in two or three years?
…a perfect example of this is Brad Richards. He was at the top of his game four years ago at age 29 when he scored 91 points for the Stars. His point total dropped to 77 the next season in Dallas and then the Rangers decided to throw a long term contract at him while he was at the zenith of his career. And look at what's happened? His point totals have continued to drop every season and fans can't wait for him to be bought out.
Original Post:
Darren Dreger at TSN is reporting that the Rangers will be announcing a contract extention for Henrik Lundqvist soon.
Dreger says the terms will be seven years at $8.5 million per year.
…wow, i figured Talbot's performance on Monday put to rest any ideas that Lundqvist wasn't the number one goaltender, but I didn't realize it would have sparked this.
…to the deal itself, while I'm happy that Lundqvist will be ending his career with the Rangers, I think it's way too long. I've stated this numerous times on the blog, but the Rangers are going to regret having $8.5 million tied into a broken down 38 year old goaltender. It's not the way you build a winner.
Remember to follow me on Twitter & Facebook or e-mail me at nyrfan94@yahoo.com.